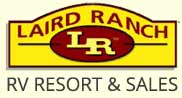 Welcome to Laird Ranch RV Resort and Laird Ranch Sales Co.

Laird Ranch RV Resort is a luxury, elite small secluded adult RV Park near Tomahawk, WI. Stay with us by Reservation Only!! We offer a private full hookup RV Resort with 50 AMP service.

Laird Ranch Sales provides manufacturer's representative services to retailers nationwide with special focus on Nebraska, Iowa, Kansas, Minnesota, Wisconsin, South Dakota, Colorado, Texas, New Mexico and Arizona. Calling on Farm & Ranch Retailers, Retail Food Stores, Gourmet Food Shops, Hardware Stores, and much much more. We pride ourselves in providing individualized attention to each of our customers and offer prompt response and professional sales assistance.
A secluded exclusive RV Resort in the Northern forests of Wisconsin. Located 6 miles North of Tomahawk, WI. Beautiful adult facility. Full hookup 50 & 30 AMP. Central fire pit and Finnish sauna. By Reservation only. Contact us for reservations and rates at: info@lairdranch.com.
Read More
Way more than cheese!!! Troyer Cheese Co. is located in the heart of the largest Amish settlement in the United States, Holmes County Ohio. They are famous for their quality cheeses, meats and home style canned goods all "Rich in Tradition". Private Label home style canned goods!!! No Minimum Order Requirement.
Read More

Looking for a "Gourmet" popcorn and one that is not sold in every grocery store, C Store or mass merchandiser? Here is the answer!! Guaranteed customer return. Great Margins.
Read More

The perfect item for the gourmet gift shop, food store or deli. Pecan Honey Butters available in 19 flavors.
Read More

Cream Can Suppers have been in the Mid West for decades. They're a quick, easy, fun, and economical way to feed a delicious meal to up to 40 people! They are great for family get-togethers, reunions of any sort, or for having friends over for a fun dinner. They have four sizes of beautiful stainless steel models.
Read More