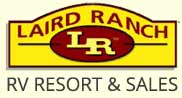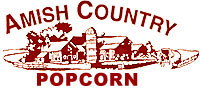 Amish Country Popcorn
Amish Country Popcorn from Berne, IN is a company that produces a gourmet line of popcorn at "beer budget" pricing. Their patented "Ladyfinger" popcorn is the smallest popcorn kernel and it pops into a sweet, white, hulless popcorn that is probably the finest popcorn you will ever eat. This product along with a number of other unique hulless popcorn is available in microwave packages as well as 1 Lb & 2 Lb retail packages for traditional popping. Also offered is a line of popcorn oils, seasonings, poppers, gift boxes, burlap packaging. We have just introduced a line of stone ground popcorn meal and flour. Perfect for gluten free customers.
In every placement we have made our retailers have enjoyed sales success with this unique line and most importantly customers are returning to purchase again and again. This is proven to be a great year around sales item. Shelf space requirements can be as small as two 4' gondola shelves. This vendor has no minimum order.
Visit Amish Country Popcorn Web Site
Like Amish Country Popcorn but have some questions?
Click here to request more information.

Download Amish Country Popcorn Catalog Here